Shake It With Milkshake - Insta Website App Review
If you are an avid Instagram user you might have already heard about Milkshake.
Aha! This Milkshake is Calorie Free!!
What Is Milkshake?
Milkshake is a Free A
pp
that allows you to create an Insta Website on your phone. For somebody who does not want to invest.
An
app
for Instagrammers to make a stylish and sophisticated website right from your mobile and you do not require any coding skills. Isn't that great!!
Milkshake is FREE, for you
do not have budget
or may be you do not want to create one as a Content Creator, yet you want to appear professional and make those Sales flowing!!
Then Milkshake App is for you!!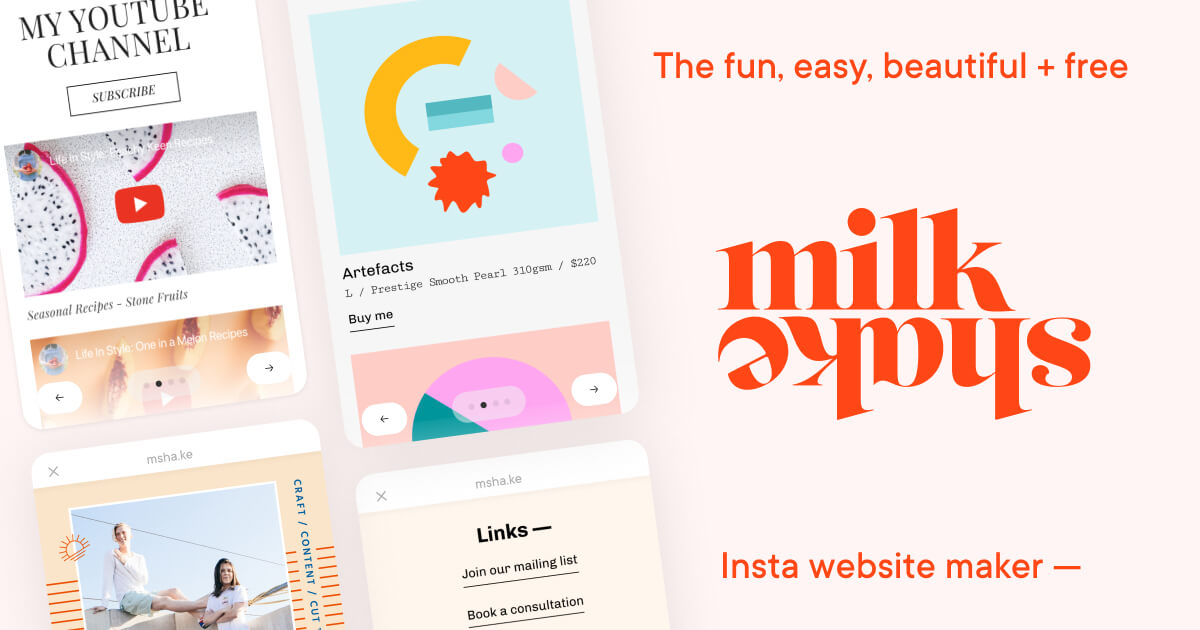 Milkshake App is perfect
to grow a business by making the most of, the one Instagram bio link. You get 4 Cards to create your Insta Website -
About - Introduce yourself and your brand
Links - This is great for Influencers and Content Creators, for you do not want to invest much time in creating website, add LINKS here!!
Top Picks - Share additional stuff under this section
Splash - Splash with Promo Offers or you can add fun stuff!!
Youtube - Promote your Youtube Channel or Videos and add new subscribers
Video Source: Youtube
Each Card has 14 templates (they are adding more) to choose from, so you can add as much fun as you want. Now that's a great to start with all under one link and

YOU GET INSIGHTS TOO!
Click and Views on Each Card!!
Isn't that amazing!!
Say More, Sell More, Share More on Instagram!!
Wait there's more, you really don't have to type in the Milkshake Insta Web URL to Instagram, the app does that all, sign in with your Instagram ID and once you are done with the cards, Hit Publish and You get the option to ADD LINK TO THE INSTAGRAM BIO.
Isn't that super easy!!
Check Out Mine, here!!
It's Fun, Stylish and Quirky and FREE,
I looove it!!
Why don't you try it yourself, go ahead and Download Here!
Q: What do you like about Milkshake App? Clean and Easy to Use, it is really smooth process from one step to another. You get an EDIT Feature where you can Shake The Cards (Modify the Card Templates)
Q: Is Milkshake App available on Android and iOS?
Yes it is available on both
Android and iOS
Q: Is this Post Sponsored? No
My Rating: 5/5
Available on: iOS & Andorid
In-app Purchases: No
So if you had been looking to make your Instagram as fun as your personality, I highly recommend Milkshake App!!
#B
ossLady
#BossBabe
#Entrepreneur
#GirlBoss
#WomenInBusiness
#Love
#B
oss
#LadyBoss #Influencers #ContentCreators
#ContentCreator #YouTuber #YouTube #Blogger #ContentMarketing #SocialMediaMarketing #Influencer #ContentCreation #Socialmedia #Instagram #Branding #entrepreneur #Vlogger