Plan Your Instagram Feed With Instagram Planning Apps - WHICH TOOL SHOULD YOU USE?
This for sure is going to be the lengthiest blog post till date on Scoopful Apps!! So grab yourself a cup of tea or coffee!!

😉
Running a blog and curating your Instagram Feed can be challenging when you are solopreneur and want to build a stronger brand and it means you really have to be productive and on the go for your social media content strategy. As bloggers, influencers and small brands, it comes to create a cohesive brand aesthetic, build engagement online and drive traffic home.
Instagram is a visual platform and the content or images we post showcases a brand's personality. That makes it extremely challenging to make it more appealing for the audience to interact and engage with the brand.
Over the past few months I had been researching and working around with different
Instagram Planning Apps
and though there are many, however I zeroed down
3 Apps
as I used them and researched them, post which I have come up with this blog post. Reviews shared here are post my personal interaction with the apps.
1. Tailwind -
I basically started my Instagram planning with
Tailwind,
which
is a
social media scheduling tool, helping you plan Instagram and Pinterest. Tailwind works with best time to post (its gives you to the Time Zone Selection which you can set to your local time) and recommended hashtags to drive engagement - Niche, Competitive, Best, Good etc.
Tailwind is highly recommended by bloggers reason being you have
Scheduling, Analytics and Monitoring all at your fingertips.
Download Tailwind!
Image Source: Tailwind
Master Tailwind For Instagram 23 Mins -
Video Source: Youtube
Tailwind Price Plans:
I started with Free Trial Plan which gives you 3 Accounts - 2 Instagram and 1 Pinterest and with 100 Posts on Instagram.
Now that's pretty

amazing!
Schedule your posts and Pins in advance!!
Besides if you have a Business Account, you have Auto-Posting Feature enabled by connecting to your Facebook Business Page
and get access to:
✈️ Auto post to Instagram at the perfect time

💬 Auto post Hashtags in First Comment

📈 Analyze your progress with Premium Instagram stats
I definitely think this is

Fabulous Tool

, which offers some great benefits under Free Trial Plan. With Browser Extension, I found that Tailwind allows you REPOST and quickly schedule posts from the internet. That's incredible!!
Beyond Free Trial Plan,
2. Tailwind Plus Plan -
-
Schedule up to 400 Posts/mo (
Unlimited Posts
on the Yearly plan!),
Track engagement metrics, 30 day history archive, content optimization. Ideal for Bloggers and Small Brands.
If that's what you are looking for Tailwind costs you
$15 per month or $119 if you pay for a year upfront.
3. Enterprise Plan -
Largely meant for large brands and agencies, right from
Profile Reporting,
Content Strategy, Infleuncer Campaigns, Industry Trends and Contests.
Tailwind Tribes - Another awesome benefit of Tailwind is TRIBES, which gives you larger reach in terms of your Pinterest Strategy for your Brand. Find a relevant tribe and connect with other bloggers and brands. You can read more Tailwind @OhSheBlogs, here.
Besides, even if your Free Trial is over and if you do not wish to continue Tailwind, you still get access to TRIBES with 30 pins each month!! Cheers!!
However what did not work out for me initially I could not verify my account for Auto-posting, so every time I want to publish on Instagram the Android App did not pop the notification, and thereby this pushed my post time or I need to be desktop to make it on time.
My Rating: 4.5/5
Available on iOS and Android
In-app purchases: Yes
Basis the pricing and that one feature that does not work me. But if you are OK with the pricing I would highly recommend as Tailwind has definitely boosted my Blog Traffic via Pinterest. Here's the link-

Download Tailwind
2. Planoly App -
While I was looking for scheduler that would ease my on the go posts publishing, I came across Planoly. As the name suggests,
Planoly
is a Visual Planning Tool, much like Tailwind that allows Instagram and Pinterest users to create calendars to plan their content, curate the content of others, schedule posts, analyze engagements and even grow an Instagram team.
Planoly user interface is clean with easy drag and drop and visually appealing. Just like Tailwind Planoly, is accessible both via desktop and mobile device.
Planoly Price Plans:
1. Free - 2 Social Profiles (1 Instagram and 1 Pinterest), with 30 Uploads per profile with basic analytics
- 1 User
- 30 Instagram Story Uploads
2. Solo - 2 Social Profiles (1 Instagram and 1 Pinterest), with Videos, Auto Post, Share to Facebook, GIF's, Best Time Schedule, Image Filter. Basic and Advanced Analytics Tracking
- One, Unlimited Uploads
- One, 30 Uploads per month
- 1 User
- $7
billed annually or $9 month to month
3. Duo -

2 Social Profiles (1 Instagram and 1 Pinterest), with Videos, Auto Post, Share to Facebook, GIF's, Best Time Schedule, Image Filter. Basic and Advanced Analytics Tracking
- Unlimited Uploads
- 2 Users
- $15
billed annually or $19 month to month
4. Custom - Custom Profile and User which gives you freedom to invite Team Members to manage your account and the Social Profiles you can manage.
Video Source: Youtube
SHOPPABLE INSTAGRAM FEED - Create Your Shoplink Right From Your Instagram Feed
,
that comes with Plan Upgrade.
You can use my referral link to get Planoly Download Here!
Q: What I don't like?
Limited uploads to free account
, so if I am unhappy with the grid visual layout and I delete the image I lose on the monthly upload count. Other than that, if I want to upload, say, 2 posts in a day, which most of the brands and bloggers do, it kind of acts as limitation in content strategy for small brands. Something similar to Tailwind, Free Plan, would have made it more attractive for starters.
I had some issues with auto-posting with the image size and it would ask me to crop the image size, besides I love that Planoly before posting asked me to be sure if I am posting the image on the right Instagram Account (I have 2 Instagram Accounts and posting on another one would be a blunder, which I guess, Planoly saves you from!!)
My Rating: 4.5/5
Available on iOS and Android
3. Preview -
Unlike Tailwind and Planoly,
Preview is largely Instagram Planning Tool.
That could be the downside, nevertheless, I still like Preview, as I schedule my Pins directly on Pinterest and not much require Pinterest Scheduler in specific.
One additional feature that I am impressed Preview has considered is REPOST and making it extremely simple, Hashtag Finder and Hashtag Groups are additional features that allows you to search and create your set of Hashtags making posting super easy!!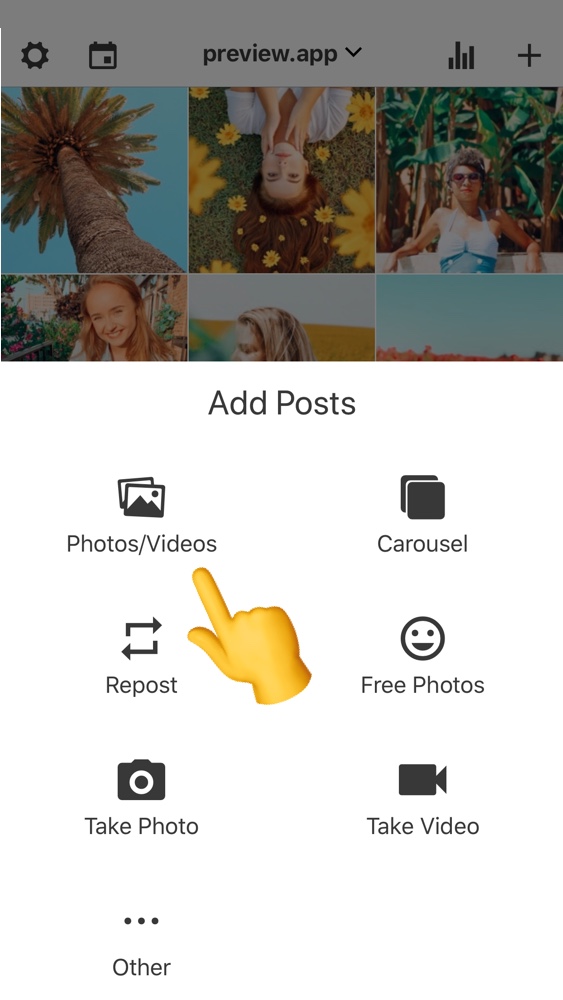 Image Source: Preview
Q: Does Preview Auto-Post? No, as of now
you receive a notification when it is time to post, you p
ress the "Export" button to share it on Instagram, p
aste your caption and hashtags on Instagram (Preview automatically copies it for you).
And its ready to be posted!!
Check this Peach Theme Filter Pack by Preview:
Video Source: Youtube
Photos, Videos and Carousel Analytics

Per Day, Week and Month

Analytics by likes, comments, engagement

Hashtags Analytics

Hashtag Groups Analytics

Top Posts

Engagement Rate Growth

Best time and Best Day to Post
Further Premium Plans gives additional features, check below Plan Wise Benefits -
Preview Price Plans:
1. Free - 1 User, 1 Device,

Unlimited Posts,

2 Filter Packs

with Basic Insights as in Most Liked and Most Commented. For you need to check Engagement, Best Time To Post, you would be required to Upgrade to Pro Plan.
2. Pro -
1 User, 1 Device with Unlimited Posts, Filter Packs, Full Insight and Hashtag Analytics, Repost
- $7.99/mo or
$79.99
billed annually or $6.67

/mo

for 12 month plan
3. Premium - Unlimited Users, Multiple Devices, Unlimited Posts, Filter Packs,
Full Insight and Hashtag Analytics, Repost, Backup, Team Features and Desktop
- $14.99/mo or
$149.99
billed annually or $12.50/mo for 12 month plan
Preview has extremely simple and easy to use interface even the charts are pretty interactive and easy to understand!!
My Rating: 4.5/5
Available on iOS and Android
For you are looking to Engage Your Followers With Visuals in 2020, here is an article by Visme
Instagram Marketing Guide: How To Engage Followers With Visuals,
shares great insights on Instagram Marketing, and I bet you would like to review your Instagram Strategy all over again.
Read Here!
Stay tuned for more 'Scoops'!!
#InstagramGridApps #Planoly #PreviewApp #SocialMedia #Tailwind GirlBoss #Entrpreneur #BossLady #SocialStrategy